MR PREMIUM WINDOW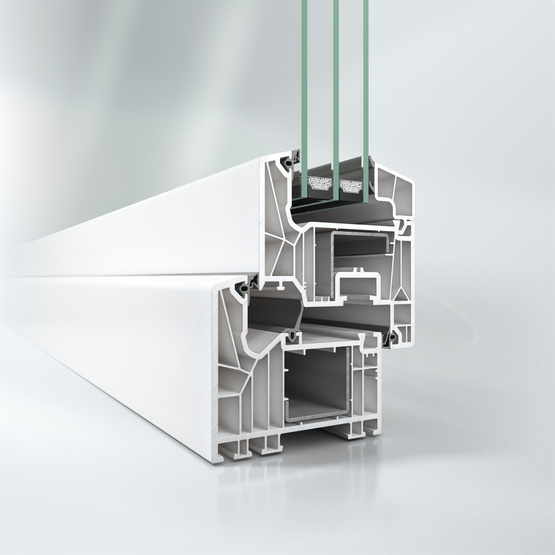 Schuco living 82 MD – 7 chamber
The Schuco brand is one of the world's most famous doors and windows brands. They are the pioneers in aluminum joinery, and in the pvc joinery industry they continue reach the required quality and are one of the factories synonymous with the German economy.
Schuco living 7-chamber PVC windows and doors set new standards in terms of comfort, safety, energy efficiency and design. The Schuco Living 82 profile with a depth of installation of 82 mm meets the standards for passive homes. With a state-of-the-art EPDM rubber seal system, it provides effective protection against wind, rain and noise.
The Schuco Living 82 profile is made in a cross section of 7 chambers and with three sealing rubber gaskets. These PVC profiles are exclusively "Made in Germany", which guarantees quality, as well as the ability to achieve a Class 2 RC security level on unwanted burglary attempts.
Main characteristics:
The 7-chamber profile, with a depth of installation of 82 mm, provides excellent thermal insulation
Heat transfer coefficient Uf 0.96 W/(m2K)
Glass thickness from 24 mm to 52 mm
High quality EPDM gasket – three gasket
Increased installation depth provides greater security and protects against burglary
Meets the requirements of IFT Rosenheim in the field of passive construction
Schuco AutomotiveFinish finish
In addition to multi-chamber profiles, a quality window is also characterized by dependable hardware and glass.
MR PVC SISTEM uses the hardwares of reputable German manufacturer WINKHAUS in production of windows – a new generation of fittings made to meet the modern requirements of housing. It provides easy handling, good window sealing, regular ventilation and, most importantly, burglar protection.
More information: https://www.mrpvcsistem.rs/en/hardwares/.
Glass is the element in window design that occupies the largest surface area and therefore has the greatest influence on the thermal and sound insulation of the joinery.
More information: https://www.mrpvcsistem.rs/en/glass
MR PVC SISTEM D.O.O. is offering 4 different PVC window systems....