MR EXCLUSIVE WINDOW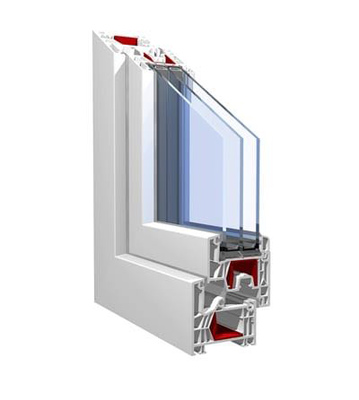 KBE 76MD– 6 chamber system
KBE 76 gives you ultra-modern windows and doors with a unique range of properties., High energy, heating cost savings and top quality, excellent noise protection, and reliable protection against forced entry.
With this system you will provide your windows not only with additional protection again external effects, but also a unique look and feel on the PVC-U profiles.
Thanks to its small installation depth, this centre seal system yields the perfect window for new buildings and restorations. Despite its slender profile sight lines, this system can easily take all standard double and triple glazing. On the contrary, the slender sight lines enter a perfect symbiosis with the best thermal insulation values that were previously known only from systems with larger installation depths. A wide range of ancillaries rounds off the centre seal system. This provides not only solutions for all standard installation conditions, but also variants for passive house, ventilation, aluminium composite systems, and colours.
This system has technical solutions available for front doors, different joining angles, solid stiffeners for large areas, etc.
With KBE 76, you invest in a system that will long be the state of the art in the window profile segment. Outstanding quality with stable retention of value.
Main characteristics
Thermal insulation value on standard window of Uf= 1.0 W/(m²K)
Sound insulation values up to 48 dB
The 76 mm installation depth is ideal for restorations and new buildings
It can take functional glazing with panes up to 50 mm thick
The combination of sash and outer frame presents a slender sight line as small as 108 mm
The combination of sash and floating mullion presents a slender sight line as small as 126 mm
Fully recyclable
Huge colour potential
Upgrade technologies: proEnergyTec and proCoverTec available
Ventilation solutions available
Aluminium cladding and aluminium composite systems possible
MR PVC SISTEM D.O.O. is offering 4 different PVC window systems....