Aluminum facades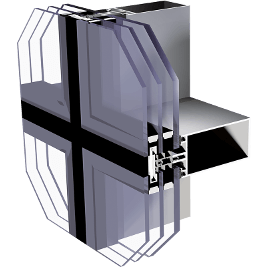 Aluminum facades can be divided into 2 groups
aluminum structural facade that gives the impression of a glass surface from the whole and is mainly intended for tall structures and structures that have a large facade surface,
Aluminum semi-structural facade is a system of aluminum facade that is also closed by glass, but aluminum profiles are more or less visible between the fields of glass. verticals and horizontal structures.
These types of facades generally recommend higher quality glass with a high degree of thermal insulation, such as low-emission argon-filled glass, stopsol or parsol glass, which has reflective effects, and is generally colored glass.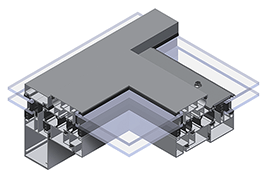 Alu facade structural
Such facade solutions are a relatively expensive option and are exclusive. However, the ultimate savings are achieved by the use of the facility itself, as it brings significant energy and cooling savings. The aluminum facade system is built by installing horizontal and vertical aluminum profiles, which are filled with appropriate glass. For structural facades, the glass is bonded and semi-structural through aluminum holders that are visible to a minimum. Since no guarantee can be obtained on the durability of glass adhesive, it is more common to apply semi-structural facades. One of the important features of aluminum facades is the opening of windows around the horizontal and vertical axes, but also to the outside. Such facades mainly adorn large business and shopping centers and feature modern and urban design in architecture.
---
In the aluminum facade system we use the MC Wall system of the Belgium manufacturer ALIPLAST. A system used to design modern curtain walls. The system is a basis for facade structures: MC Passive, MC Passive+, MC Glass and MC Fire, MC Glass Fire (a solution for fire protection); the MC Wall system offers many possibilities of creating the installation. The system offers structures to be opened on the facade: parallel windows (MC PW) and roof windows (MC RW).
Its features:
Mullion-transom visual width: 55 mm
A wide range of mullions and transoms suitable for static requirements
A wide range of colours available – RAL palette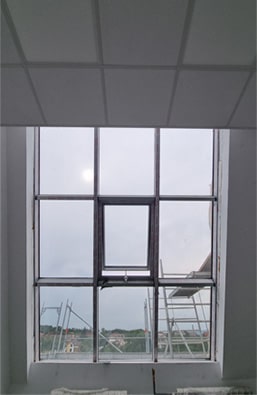 ---