MR SUPER PLUS WINDOWS WITH ALUMINUM CLADDING
The perfect product for customers who have doubts about choosing PVC or Aluminum window.
With the help of aluminum cladding on the outside, we get an ideal synergy of the best performance of aluminum and PVC joinery: PVC as currently the most applicable insulator and Aluminum as a material that allows different finishes (desired color and texture) as well as a more luxurious look and thereby gives the aesthetics of home to your desier.
The MR SUPER PLUS window with aliminum cladding is the right choice because of its extremely modern design and high energy savings. This system is also suitable for all newer buildings because it fits with all variants modern facades (alubond, glass, etc.).
Advantages of MR SUPER PLUS WINDOWS WITH ALUMINUM CLADDING:
Excellent thermal and sound insulation
Excellent weather and mechanical resistance thanks to the clipped-on aluminium cladding
Various finishing methods and numerous RAL colours
Easy to clean, durable and elegant appearance
In this variant, we have two profile systems, the KBE 76 medium seal system – AluClip and SCHUCO profile: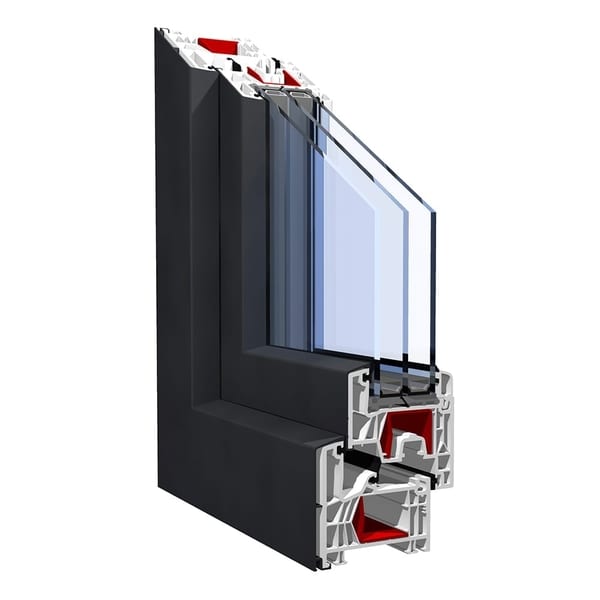 Main features of KBE 76 system:
Value оf thermal insulation for standard window Uf = 1,0 V / (m²K)
Value of sound insulation up to 48 dB
The installation depth of 76 mm is ideal for renovation and new buildings
Installation of functional glazing, panes package thickness up to 48 mm
The combination of sash and outer frame presents a slender sight line as small as 108 mm
The combination of sash and floating mullion presents a slender sight line as small as 126 mm
Fully recyclable
Unlimited range of colours
Suitable for the upgrade technology proEnergyTec and proCoverTec
Ventilation solution available
Aluminium cladding and aluminium composite systems possible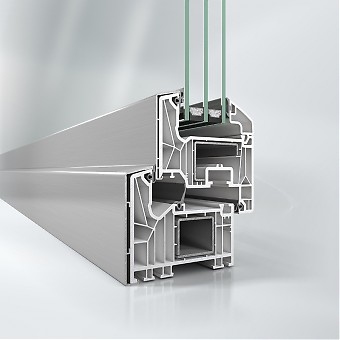 Main features of KBE 76 system:
7-chamber profile with optimized geometry and 82mm frame depth for maximum thermal insulation
UV value of 0.96 W / (m²K)
Excellent glazing options up to 58 mm
Increased basic depth for added security and burglary resistance
Great sound reduction
Large selection of colors
MR PVC SISTEM D.O.O. is offering 4 different PVC window systems....