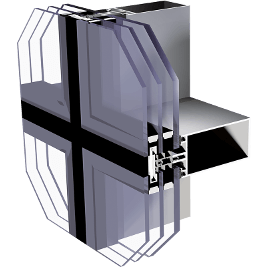 Glass facades can be divided into 3 groups:
Aluminium continuous facade is characterized by clearly accentuated vertical and horizontal profiles on the outside of the facade. Undercaps and cover caps fix the glass fillings to the basic facade construction. This system is characterized by the availability of different forms of hats, which gives the facades a unified look.
Aluminum structural facade that gives the impression of a glass surface from the whole and is mainly intended for high buildings and buildings that have a large surface of the facade.
Aluminum semi-structural facade is a system of aluminum facade that is also closed with glass, but between the fields of glass are more or less visible aluminum profiles, i.e. vertical and horizontal structures.
With these types of facades, higher quality glass with a high degree of thermal insulation is generally recommended, such as low-emission glass filled with argon, stopsol or parsol glass that contains reflective effects, and it is mostly colored glass..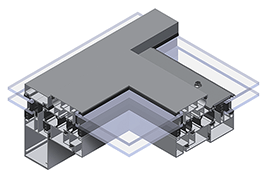 Such solutions for facades are a relatively expensive option and are exclusive. However, the final savings are achieved by the use of the facility itself, because it brings significant energy savings that are spent on heating and cooling. The system of aluminum facade is built by installing horizontal and vertical aluminum profiles that are filled with appropriate glass. In the case of structural facades, the glass is placed by gluing, and in the case of semi-structural ones, by aluminum holders, which are minimally visible. Since a guarantee of the durability of the glass adhesive cannot be obtained, the use of semi-structural facades is more frequent.
One of the important characteristics of aluminum facades is the opening of windows around the horizontal and vertical axis, but also to the outside. With its modern and urban design, such facades mainly adorn large business and shopping centers.
---
In the system of aluminum facades we use the MC Wall system of the Belgian manufacturer ALIPLAST. This system is intended for the design of modern firewalls of simple and complex shapes. The system is the basis of facade constructions: MC Passive, MC Passive Plus, MC Glass and MC Fire, fire protection solutions. The MC Wall system provides a wide range of design options for embedded systems. It offers systems of opening facades: parallel windows (MC PW) and roof windows (MC RW).
Basic characteristics:
Mullion-transom visual width: 55 mm
A wide range of mullions and transoms suitable for static requirements
Possibility of highly insulated constructions depending on the thickness and type of filling
A wide range of decorative cover caps makes it possible to obtain varied visual effects on the curtain wall
A wide range of colours available – RAL palette.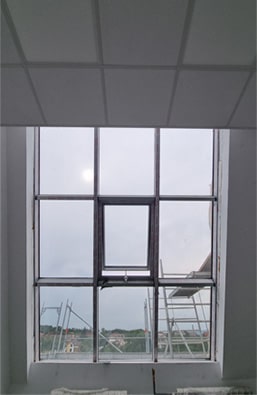 Neke od naših radova možete pogledati ovde
---