SLIDING AND FOLDING PVC
1. Tilting and sliding system – PSK PORTAL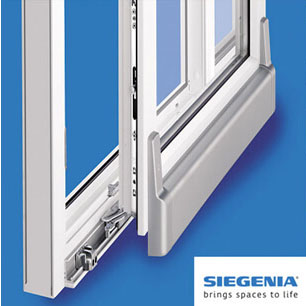 The most popular sliding system in south Europe with excellent features in both PVC and aluminum systems. Provides excellent breathing and security for your home. Also known as the COMBI SYSTEM.
---
Lift-sliding systems
Lift-sliding system ULTRAGLIDE

Aliplast Ultraglide is system featuring improved thermal performance, used to design sliding and lift-sliding structures. Ultraglide sliding structures are intended for residential buildings, mainly private and public buildings. Adapted to the latest requirements relating to thermal performance, aesthetics and safety; available system options: UG low-threshold version, UG – 90° angular solution. With its parameters makes it possible to design structures with vary large dimensions of sliding leaves – maximum structure dimensions available in the system: leaf height – Hs = 3300 mm; leaf width – Bs = 3200 mm.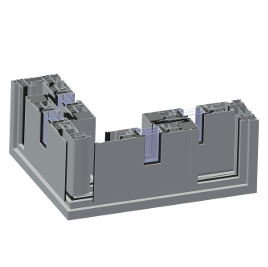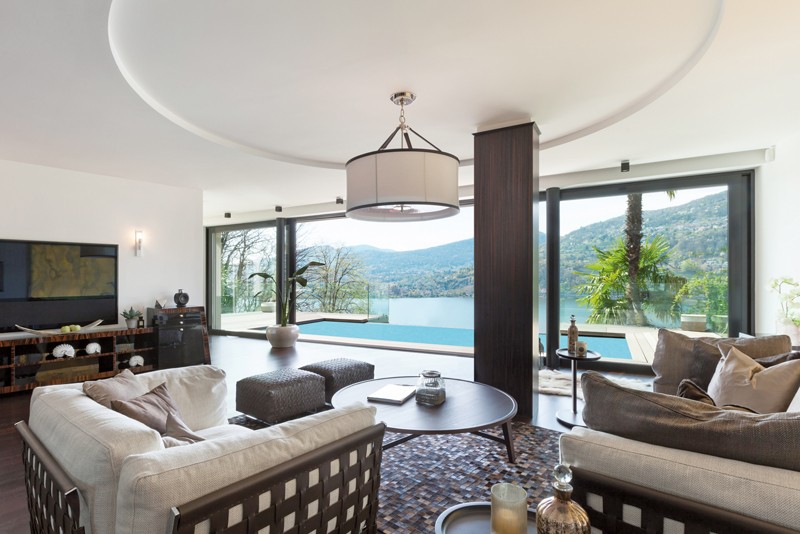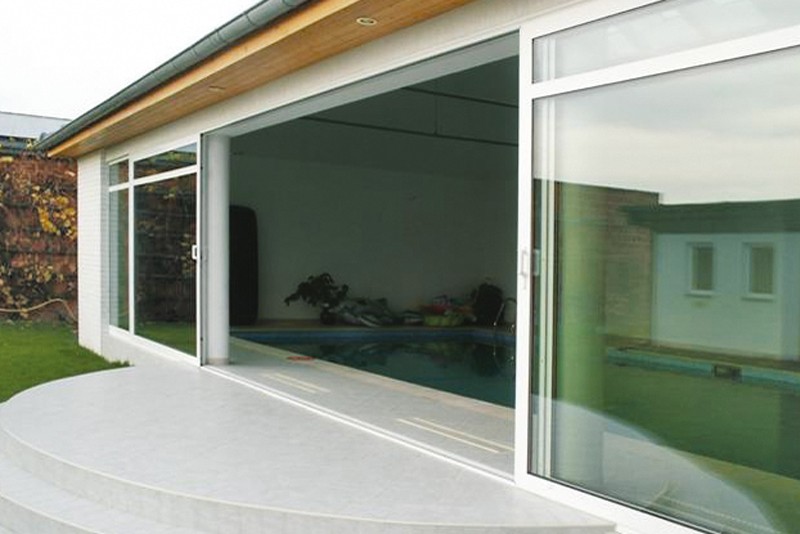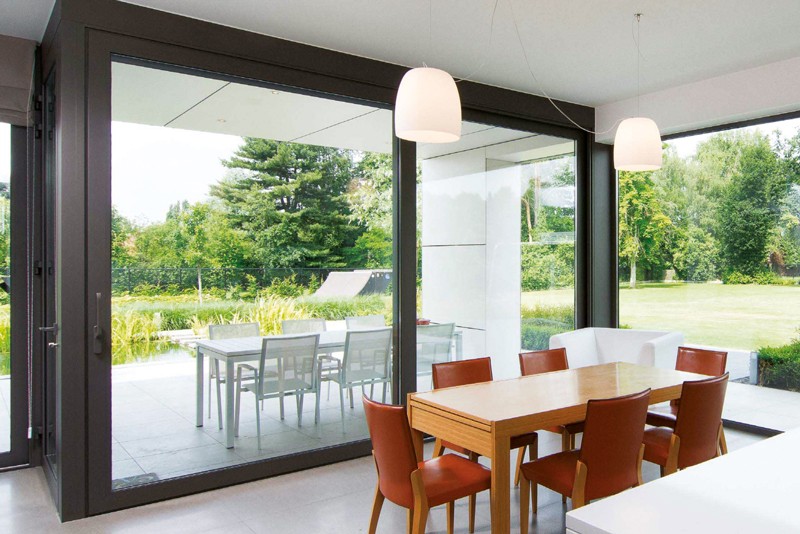 ---
Lift-sliding systems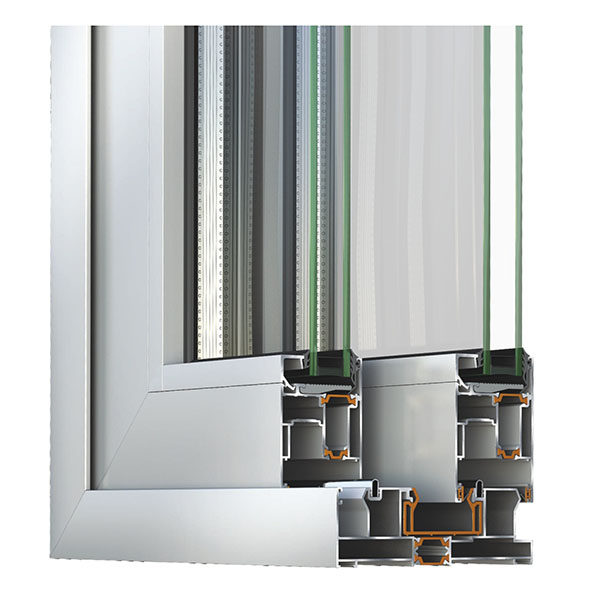 Lift system – Alumil S560 SMARTIA
The Alumil S560 SMARTIA is one of the more robust thermal insulation systems with high technical performance and flexibility. This aluminum system is suitable for closing large openings with thermal insulation Uf = 2.2-5.9 W / m2K. A minimum wing width of 49mm ensures maximum penetration of natural light. The stainless steel rails and the lifting and sliding mechanism allow for easy and smooth sliding of the wings. Provides increased static stability in severe weather.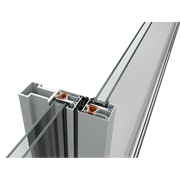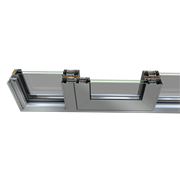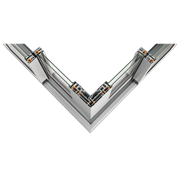 ---
Classic Sliding Systems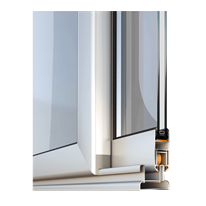 The Alumil M900 COMFORT is a thermally insulated system. It is a cost-effective solution for glazing small spaces such as terraces and rooms that do not require heat. Depending on the width of the space to which it is installed, it can be made in a variant of two or three sliding wings (double or triple profile of the rod), with single or double glass and load capacity up to 80 kg. Wing depth is 28mm.
---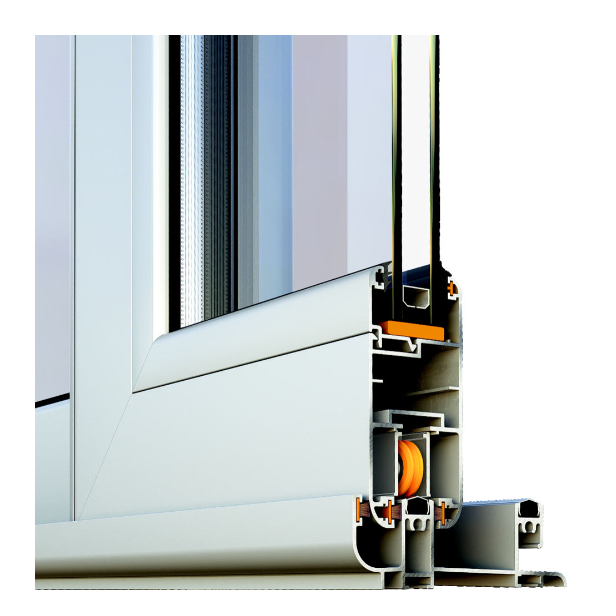 The Alumil M9200 COMFORT is also a thermally uninsulated system of curved lines. It is suitable for glazing medium and large areas, such as porches, restaurant gardens, hotels that do not need thermal insulation, but protection from external influences of rain, wind … It can be made in a variant of two or three sliding wings with limited weight per wing (up to 120kg). With this profile, the wing depth is 38mm.
---
The Alumil S350 SMARTIA is a thermally insulated sliding system. Modern straight lines and minimally visible frame provide an increase in natural light. Elegant design meets the requirements of contemporary architectural trends. The extraordinary energy efficiency of the profile contributes to greater facility savings. Wing depth is 35mm and payload per wing is up to 180kg.
---
Harmonic system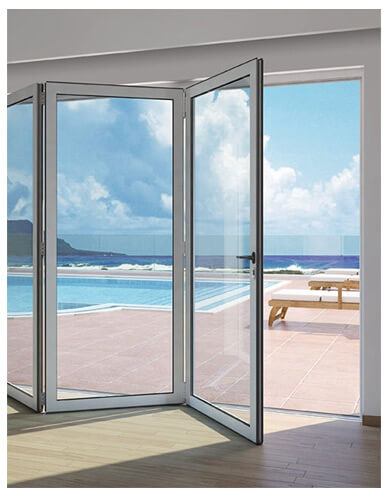 Accordion system
Designed and developed to meet all the requirements of closing large openings in both residential and commercial areas. Can be used in aluminum and PVC systems. All wings can be folded into one end of the opening to take up less space. Ideal for transparency, harmoniously tying indoor and outdoor.